Arquivo para a 'Jornalismo' Categoria
I was preparing to write something about the first volume of Otto Maria Carpeaux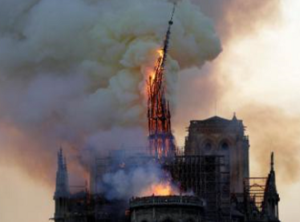 on Western literature, curiously I dwell on the passage: "'lirism' is the true name for the divine and human order in the world of Sophocles, symptoms of a precarious balance because purely aesthetic "(Carpeaux, 2012, p. 49), which speaks of lyricism in Sophocles, the fire of Notre Dame robs me of lyricism, and certainly not only aesthetic but historical.
Certainly there will be some who think that they are stones and museums, the little appreciation for the religious question touches me, but I understand, but no appreciation for history, the first arches that extended the ceiling of the Gothic cathedrals, an engineering work that lasted almost 300 years, that used various styles of architecture that could be reviewed and understood, etc.
There is militant ignorance, appeals to practice, objectivism (which robs any lyrical or poetic possibility), what Byung Chull Han calls the culture of the "smooth", flat, without wrinkles or details, which wants to abolish any environment, enhances or poetic license, the "challenge" culture.
I saw the works of Gaudi in Barcelona the contemporary opposite of the culture of the flat, a poetry, lyricism and a mystique made of stone as he intended, the internal lights of the Sagrada Familia are a spectacle to the part, it is not the digital that abolished this, much before modern objectivism.
Ignorance beyond questioning any concept, philosophy or theory, in addition to a pseudo appeal to practice, objectivity or any other argument, in fact without good method none of this can be successfully achieved, this ignorance has become militant and I wonder if would not be able to destroy mankind's patrimony.
The Islamic State did this in Palmyra, but do not we do the same in our instrumentalizing, ideologized and militant practice, in fact, there is today a militious ignorance.
I want to imagine that the fire of Notre Dame was not a criminal, because it does the same thing as terrorism by destroying history, culture and the possibility of future generations understanding the long road that humanity has gone through, it is not possible to have a promising future by ignoring the past, not only the deeds, but also the mistakes and misunderstandings.
I accept this momentary death, this is my easter and easter of history, but I believe in future and in the culture.