Arquivo para a 'Jornalismo' Categoria
False, malicious or biased news are old, we have already mentioned the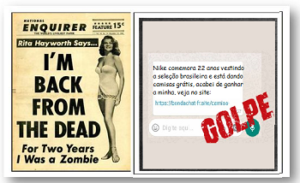 allegations made by Karl Kraus, also news that actress Rita Hayworth (the stage name of Margarita Carmen Cansino, famous in the 50´s and 60´s), who would have lived another two years , or the misleading advertisement that Nike would be giving shirts of the Brazilian national team.
Now there is software developed by the research company Fraunhoffer-Gesellschaft, in Germany that has developed a system that automatically analyzes post of social media and filters false news and misinformation, we can predict a promising future.
It is worth mentioning that this was thanks to the new technologies, the tool does a machine learning that filters the news and through learning (in the sense of algorithms per machine) analyzes contents and metadata, verifying user interaction and optimizes results in real time.
The tool also checks the amount of data (viralization processes), with sending data graphs, frequency and follower networks.
Ulrich Schade, according to the Fraunhofer website, said: "Our software can be customized and trained to meet the needs of any customer. Our software can be customized and trained to meet the needs of any customer. For public agencies, it can be a useful early warning system."
Metadata are used as markers, thus allowing fake postmarking, that is, it plays a crucial role in differentiating between authentic sources of information and false news.
So if a site with a certain frequency of posts is made, how often and how a tweet is scheduled and at what time? The time of a post can be very revealing, as well as the frequency of the tweet and the followers.
It should also reveal the country and the time zone of the originator of the news for its correct identification and location, therefore the hours are essential.
A high frequency of sending suggests bots, which increases the probability of a false news, can be easily detected and can signal a fake.
Social bots generally send their links to a large number of users, and this is an example of how to spread the uncertainty among the public, so never give in.
Connections and account followers can also be fertile ground for analysts, although well-intentioned people use it, the chance to be a fake is great, and now a tool can detect it, fake days are counted.