Arquivo para a '' Categoria
*The previous text is wrong, because I had some security problem with my blog.
Perhaps the greatest of paradigms and thus the most susceptible to human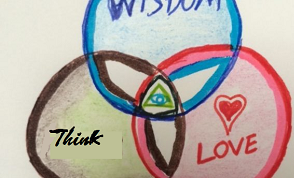 errors is Love, one can speak of the Greek classification: eros, philia and agape, but I want to link it here to wisdom in the sense of full happiness, not the one that produces utilitarian but spiritual fruits.
There is a book "The shadow of love, on the concept of love in Heidegger" and another that was Hannah Arendt's thesis, they do not seem to be but are linked, because it was during the thesis period that Heidegger and Arendt had a romance and so she began to be mentored by Karl Jaspers.
The great scientific theory of our time, both for Karl Popper and for Thomas Kuhn, two great philosophers of science, is the possibility that there will always be a course correction in scientific methods and theories so that man knows more about himself and nature that surrounds it.
Heidegger's text, which is a compilation of letters, only exists in French, so let's return to the German concept of "Dasein" now to re-signify it and give it a connotation linked to Love:
"In the usual meaning, however, it means, for example: the chair 'is there'; the uncle "is there", he arrived and is present; hence: presence" (Heidegger, 1994b, p. 300).
It may seem like a simple literary maneuver, but it is not, other authors (Fernandes, 2011) also make this allusion and even compare it with "parousia" and "adventus", which acquire a more religious connotation, here it is not necessary.
Thus, it is a presence of an absence, but love also passes through language and thinking, so "thinking is, therefore, to found, in the human, the "medium" to give oneself to the truth of being. It is, therefore, to co-found the human as presence: to be the there-in-being. In this sense, the fundamental ontology is a rush towards the passage, to pack itself for the leap, a first movement in favor of the foundation of the truth of being in the human as presence. This entails a transformation of the human from the lord of beings into the shepherd of Being".
And this is Sloterdijk's main contestation in Heidegger, the failure of this human domestication, or what in Heidegger is "care" and that modernity has not been able to resolve.
Heidegger's main idea about Love is its presence in an Absence, to which we can add what we developed in previous topics: working with uncertainty and errors, that is, knowing how to live and work in the face of the natural difficulties of life.
Quantum physics, for example, has its beginnings in the enunciation of Heisenberg's uncertainty principle, which stated that it was not possible to know exactly what the position of the particles of an atom was with exactitude, Planck who did not agree, it is his statement "I do not agree may God play dice", went to the laboratory to prove this principle.
NASA (in the photo the crash of the spacecraft colliding with Dimorphos) has just made a scientific feat which is to hit a satellite of a small meteor, which does not pose any danger of collision with Earth, just to prove that it is possible to change course some celestial body, and with that, in case of danger to Earth, change its route.
The DART project is a test for a possible future mission to deflect an asteroid from colliding with Earth, for cosmic dimensions Dimorphos is small (160 m) and orbits another larger asteroid (780 m) called Didymos and form a binary system, the spacecraft that hit it was traveling at 22.015 km/h and the image seen from a telescope in Hawaii on Monday night (26/09) shows that the impact produced many fragments, the deviation from the route, however, is small.
Changing route is wise, when you admit the mistake, but it requires two steps: admitting the mistake and then having the humility to change route.
Reference:
HEIDEGGER, M. (1994). Beiträge zur Philosophie (Vom Ereignis). Frankfurt am Main: Vittorio Klostermann
Fernandes, M. (2011) A. O cuidado como amor em Heidegger. Rev. Abordagem Gestalt. Vol. 1, n. 2, Brazil, Goiânia.