Arquivo para a 'circuits' Categoria
The first important fact of the Sycamore chip, which works using quantum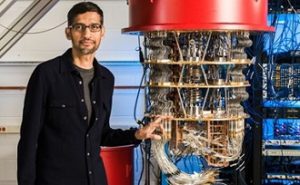 principles, is that it became known for a scientific article in the respected journal Nature.
Second is the speed and accuracy of the 200-second calculation that a supercomputer using the classic principles of binary digits would take 10,000 years to do.
The third important point is applications ranging from molecular processes that will benefit from this breakthrough, the development of better electric car batteries to replace fossil fuels, and less environmentally aggressive fertilizers.
The idea of bits is also at an end, as well as their duality, qubits can assume numerous states between 0 and 1, can also have simultaneous states, in a phenomenon called superposition, where they can represent 0 and 1 simultaneously, and with it itself a result beyond the technique.
You can handle even larger amounts of data than you do today with BigData, create chemicals or pharmaceuticals, and perform risk and safety analyzes quickly and accurately, for example, to avoid risk situations.
Sundar Pichai, CEO of Google and one of the authors of the article, states that "it will also allow us to understand the universe more deeply," which means changing our worldview.
In the following video, Google's demonstration of the supremacy of its quantum chip.