Arquivo para a 'James Webb' Categoria
Of course the divine locus is anti-spatial and temporal, even modern
quantum physics developed the theory of the space-time dimension as the only dimension and where there are folds in time, but it is likely that physics will still make discoveries greater than wormholes. , accelerated space travel dimensions and will change our cosmic view of space.
The latest discoveries by James Webb, the telescope that looks at the origin of creation, already sees in what astronomers call the pillars of creation, the new images (10/19) show formations that look like rocks, but which are clouds of gas and dust of astronomical dimensions, where stars and celestial bodies are formed, in a kind of nursery.
The new image, using James Webb's infrared resource [and it is possible to better observe the dust in this region of star formation (Image from NASA above), improving the image on the left of 2014 from the Hubble telescope, the image on the right being the image by James Webb.
In terms of the eschatological cosmovision, the one that studies the beginning and end of humanity, it is possible to imagine that through a "time warp", we are still stuck in Einstein's physics, this cloud forms and starts a development of stars, supernovae and galaxies in the universe.
The divine plan is even broader, since the time of Jesus, men wanted to know when the "kingdom of God" would be formed, an earthly dimension in which our human condition would be elevated to a level of happiness and prosperity that would reach everyone. , "where milk and honey flow", but the master's answer was not very pleasing to those who wanted something more tangible.
The reading in John 1:20-21 says they wanted to know the moment of this "kingdom" and Jesus replied: "the kingdom of God does not come ostensibly, nor can it be said 'is here or 'is there, because the kingdom of God is among you", that is, it must take place among men, so there will still be many changes in the human and earthly dimension until this stage.
And the passage clearly says that before this the son of man (Jesus who is a presence of God among us said above), will have to be rejected and will suffer much.
Thus, it is necessary to find spaces of solidarity and fraternity among men where these seeds of full life are developed, men understand each other and look with love for their fellow man, without contempt or exclusion.
So this kingdom is near where there is love and brotherhood and far away where there is greed and exclusion.
It was the philosopher Sloterdijk who was the first to create the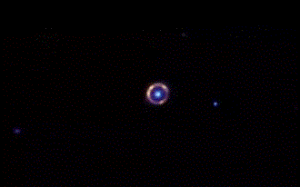 relationship between man and his spheres, from the maternal womb to the planet, he is largely right, also in criticizing cynical reason, the one that justifies spherical reality is largely correct, it is a metaphor, but very good.
Let us think of the fetus, which remains within the sphere of the uterus until it leaves and looks at its ex-sphere, the mother, will still feel her dependence for a long time, it happens that this sociological, anthropological, semiotic reality has its own topological properties that are hidden in the cynical reason.
One of them is to understand that there is an immunological relationship whose primary purpose is to protect, nourish, train and immunize homo from an unknown sapiens exterior, like the baby who at birth depends on the mother, he needs her immunological protection.
The search for other spaces, inhabiting the moon (the new mission finds it difficult) and mars (astronauts think it would be horrible to live there) does not resolve the planetary spherical relationship, in crisis, it is necessary to open up to the other and leave of the hut, some psychologists speculate about the hut syndrome, which the pandemic has accelerated, not wanting to leave a sheltered, spherical environment.
The super telescope James Webb photographs Einstein's ring in a place far away and physically unreachable by man (the image), at least under current technological conditions, and the physicist's prediction was "photographed" (actually the instruments are of frequencies and not of "photos") with formidable precision, one can extend Sloterdijk's metaphor.
Gerald's 1916 theory of Gravity revolutionized physics by creating a physics that claimed that gravity is a curvature of the space-time continuum caused by the mass of objects, almost two massive objects were perfectly aligned with the Earth this space-time would deflect the photons forming rings around the alignment of these two objects.
An English physicist named Sir Oliver Lodge suggested that this phenomenon of a massive gravitational field would not only deflect light from an object behind it, but also magnify it forming a gravitational lens, and the recent James Webb photo confirms this phenomenon.
What is the metaphor, massive immunological spheres, cultures, religions or ideologies whose purpose is to protect themselves when close (or on a collision course which makes the metaphor more complicated) not only form a strong gravitational field that draws bodies around, they do not they only distort space-time, but they are also lenses that, if carefully observed, allow us to see what is behind.
So it is time to look beyond the differences, the imperfections of the spherological models and enable a gravitational attraction that helps to better understand the civilizing process.
The first color images of James Webb have arrived, they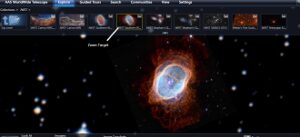 are really amazing and also the tools available to users, in addition to all the internal resources of course.
A historic target was Stephan's Quintet, the first compact group of galaxies that was discovered in 1787, it is in the constellation of Pegasus, as the name implies, there are five galaxies, four of which dance between them and two are very close.
Birth in the so-called Southern Ring, an immense cloud of gas surrounding a dying star resulted from eight explosions from an ancient sun now reduced to a white dwarf.
An authentic "nursery" of a star, the white dots inside an enormous "mystical mountain" made by elements that "feed" the formation of a star, the so-called Carina nebula.
The other equally spectacular images were the first giant exoplanet, about half the size of Jupiter, of WASP-96 b, discovered in 2014 and which was shown using internal resources the spectrum of elements present on it, that is, if it has water and other chemical elements that make it up.
And finally a fifth image was shown of the cluster of galaxies, SMACS 0723, which works as if it were a cosmic magnifying glass to see and see what other galaxies are like and this is just the first.
Using an available zoom tool allows you to choose your target (in options above, for 5 images: JWST) and take the tour by traveling millions of light years and having an experience close to scientists.