Arquivo para a 'eletronic reader' Categoria
Is available online free book: Journals on Health Sciences : Visibility , form and content, published by the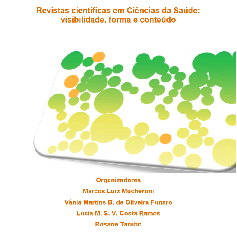 School of Public Health and organized by me and researchers : Vania Maria B. Funaro de Oliveira , Lucia M. S. V. Costa Ramos and Rosane Taruhn and prefaced by Dr. Flavio Fava de Moraes .
In the presentation Prof . Dr. Flávio Fava de Moraes , Rector of the USP (São Paulo University (1993-1970) and former director of FAPESP (São Paulo Research Foudation) (1986-1993) , states that " The book does not address the issue of the Journals only as a goal of disseminating results for an interested community . 's more, it considers its theoretical , conceptual , methodological , comparative , modern and spotless pedagogically , which could only be obtained by aggregating people here from proven skills in selected thematic " .
Clarify in my presentation that the adoption of this form means : " in the case of scientific … the inclusion of readers and consumers of content in a process that allows access to the ' distributed capital ' , i. e. , Web content , expanding and facilitating the process of information dissemination ".
In the first chapter the authors analyze where magazines , national and foreign researchers publish some projects funded by FAPESP , selected criteria , the Virtual Library of the Center for Information and Documentation of FAPESP .
The second chapter analyzes the Brazilian Public Health Journals : editing aspects , form and content , the authors , members of the Research Group on Science Communication in Public Health from CNPq , making a thorough analysis of 22 national titles.
The third chapter covers the Brazilian journals in nutrition : shape and theme brings an important contribution to an area still considered in its initial Brazilian scenario in the Nutrition.
The fourth chapter brings s Brazilian journals of Dentistry and its channels of dissemination of scientific research, is the state of the art of Brazilian scientific journals of dentistry in relation to their evolution over the years linked to quality, indexing bases data and the international visibility.
.
The fifth chapter , the authors bring Journals in Nursing in Latin America and the Caribbean reveals in his introduction , the professional in the field , with generalist, humanist, critical and reflective qualified to practice the profession , based on scientific and intellectual rigor and follow ethical principles .
Just consult the Library BVS School of Public Health School at the link provided