Arquivo para July 26th, 2013
Since coming to Brazil the number of access to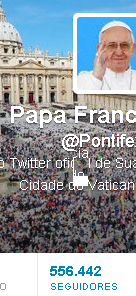 official website reached 300,000 unique hits, Twitter in Portuguese has just over 556,000 followers (until 25/07), and recent tweets re-twitted has been for thousands of people more than 20 000 since the publications were made on July 19, when the papal Twitter began writing WYD (the World Youth Journey).
The last twitter who has read the message: "The measure of the greatness of a society è given the way it treats the most needy, those who do not have anything other than their poverty", the center of all the messages of the Pope in Brazil.
The success of Pope Francisco is huge on Facebook too, even without direas interactions with the pontiff.
On Tumblr, Pope Francis has won a special place to centralize memes, with the name "Papa Humildão", the site uses images with captions funny practical there.
On Twitter, Francisco has official accounts linked to the Vatican in eight different languages​​, including English, Spanish, Italian and Arabic.