Arquivo para July 28th, 2013
In the background does not matter if someone is saying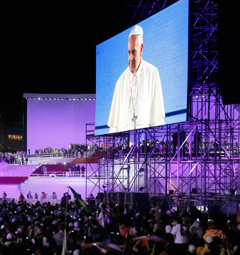 something about the present political'll be saying something without being so, and if any politician comes to important issues, it is re-connecting with something that believes, even without some belief professes will be saying something that believeth.
In difficult times, in times of social and cultural transformation, these emerging figures within the political broth or on some divine light that proclaims demands and prevent hazards.
Pope defends what he calls the "culture of encounter", dialogue, defended the secular state and has acknowledged that the current society deletes old and young.
Give a concrete example, nothing more religious than the skeptic and scholar Edgar Morin said: "In the end, everything is supportive. If you have a sense of the complexity, you have a sense of solidarity "(Morin, 2007) and nothing more political than listen to the pope:" "You, dear young people, have a special sensitivity to the face of injustice, but often disappoint with news that talk of corruption with people who, instead of seeking the common good, seeking their own benefit "ai visit the community of Varginha in Rio de Janeiro, Brazil.
So there are no limits so narrow between politics and beliefs, as would be desirable for some network connected nodes are not uniform and often the convergence and divergence of values ​​do not matter much, there will always be a convergence in some direction.
This is not anarchy or rebellion without cause, surely causes exist and are all there for those who are honest and use the glasses of justice and truth, is a desire for more citizenship.
What there is a prospect accurate, but it may be that the network also helps this.