Arquivo para November 7th, 2013
Equipment with a 6 meter possible for panels and public illuminations, Duncan Frazier and Steve McGuigan, designers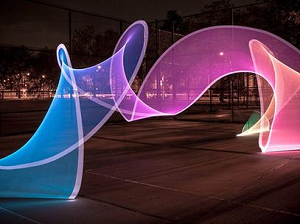 developed the Pixelstick BitBanger Labs, an outfit consisting de198 colored LEDs within an aluminum box.
The Pixelstick can read digital pictures developed in Photoshop (or other editing program) and creates several different visual effects, allowing even with use of a DSLR camera, draw paintings of light (light paintings) from long exposure times.
Each LED corresponds to a pixel, then the visual effects like animations, paintings and abstract designs in various sizes. Have images that can be 1-198 pixels tall and thousands of pixels wide, with a nice visual effect.
According to information from The Verge, the first equipment will be available in early 2014, but says nothing about costs.