Arquivo para February 4th, 2014
The  rank published by the American company Akamai Technologies, last Tuesday (28/01/2014) places Brazil in 84th place,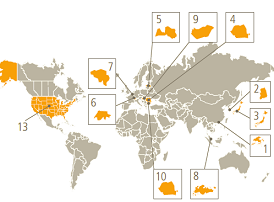 just behind Argentina , Kuwait and Saudi Arabia, all with speed of 2.8 MB medium of transmission.
Although the average speed of Brazilian connection has grown 10 %, which is lower than the world's average growth considering the technological developments, the expectations are for the submarine cable connection which in addition to the cost savings of around 15 % also takes to a greater connection evolution.
With the 84th place in the rank that identified the 20 countries with the fastest internet connection in the world, Brazil has a speed of 2.7 Mb per second, in a total of 140 countries that participated in the report of the American company.
Hong Kong tops the list with an average speed of 65.4 Mb per second, and South Korea and Japan completed the top three with speeds of 63.6 Mb and 52 Mb, the United States was in the modest 13th place with 37 Mb of average transmission speed.