Arquivo para March 24th, 2015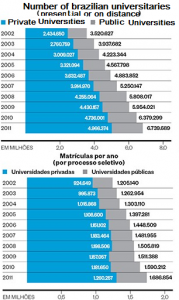 Even considered that the INPE data (Brazilian National Institute of Education, Ministry of Research) may be exaggerated, the data say that young people between 18 and 24, who were enrolled in higher education were 15% in 2002, and must have passed to 29.9%, according to official data, in 2011, and should be getting in fact only 30% now in 2015.
Although the level of teaching quality is to be questioned, the fact is that those who read more, to better understand the reality and tends to be more critical, but most of those who extol this data forget the politizador role of social networks.
Activists are there protesting and this is independent of social class, the young case.
The other reason is forgotten the economic crisis, ignored by official data until last year, can not now be ignored, the growth has come to be celebrated by 7% grew in the wake of profligacy and easy credit, now must not exceed the 1% and can remain so for years to come.
So the fact that there was "growing" the possibility of rapid improvement in the standard of living of Brazilians, especially the younger ones, it becomes frustrating when unemployment levels reach rates of 12.4%, which is three times among older, so the society excludes youngs and olds over 50 years.
The data show that growth was in courses "in-person and distance" and although the official campaign talk of the growth of public schools, the numbers (data from Epoca magazine) does not indicate that this growth is significant, lack analyze the quality and who are freshmen, that is, if there is inclusion, that is for tomorrow.