Arquivo para April 20th, 2016
The Brazil 1922 was a foreshadow of what could happen in the 30s,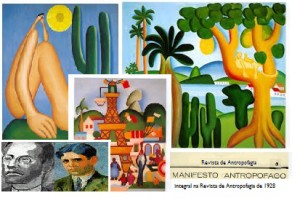 but a group of intellectuals tried positive way of looking at the future breaking with the Caboclo nihilism name I prefer than "ontology of abandonment" already mentioned in previous posts, the period has analyzed Machado to Lima Barreto. Martin Vasques da Cunha says that Sergio Buarque de Holanda, then just a literary critic visited Lima Barreto already ill in 1921, and in a strange conversation for the two requested support to a Manifesto of a Modernist Movement launched by a group of several intellectuals several areas.
After listening to him talk to other Turkish magazine Klaxon, it ironic between several things would have said to the French poet Paul Verlaine saying, "This indeed was a poet. He drank like a goat .. "and according to Cunha (p. 164)" Days later, Lima publish an article in which solemnly despised paulistanos ideals, stating that he knew had long been, what was this "futurism" that both defended ".
Far from being just a break, there were these young Art Week 22, a literary desire that can be defined didactically in two ways: to find a national identity and second announce a more promising future for the country.
The tables Abapuru and Carnival in Tarsila do Amaral Madureira show these two trends, while the table Post 1928 shows a Brazil still colonial.
The Antropófogo Manifesto, who coined several famous phrases like: "Tupi or not Tupi that is the question" (Tupi is Brazilian indians), "If God is the consciousness of the Uncreated Universe, Guaraci is the mother of the living. Jaci is the mother of vegetables "among others and who also had the brothers Oswald and Mario de Andrade, who wrote Paulicéia Desvairada (1922) and Macunaíma (1928) (a screenplay).
There are many analysts who take off this week of Brazilian culture, we will return to Inconfides Miners (moviment to Brazilian´s libertation), Thomas Antonio Gonzaga and Claudio Manuel da Costa.