Arquivo para April 26th, 2016
Three Brazilians resident in one of the driest areas and the poorest in Brazil,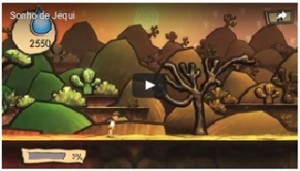 a boy named Jequi, direct reference to the North Mine Valley and south of Bahia, runs through the semi-arid region the demand for water in a landscape of cacti and sawed.
The story serves as a backdrop to the game, was developed by newly graduated students of PUC Minas, the authors are Eric Grasso, Alessandra Faria and Ramon Coelho, the mining team Tower Up Studios.
Sponsored by Microsoft, the competition evaluates various games, and the national stage of the competition takes place this year in Belo Horizonte as the result of a partnership between the Secretariat of Science, Technology and Innovation of the State of Minas Gerais.
The prize of US $ 50,000, to be delivered to the innovative work of the entire planet, and this is the 14th. edition of the international tournament promoted by Microsof.
The number of games involving solely war and use of firearms is immense, and concern for education and the future of young people not only Brazilians, but of the entire planet, as the games are successful around the world, except rare Arab countries where they are prohibited, but there is no longer a parallel game.
There are other national games competing, Brazil won last year with the game made the USP "Clothes for Me" tool for making tailored clothing.