Arquivo para September, 2016
Despite the obstacles involved in the idea of ​​good, first because it is only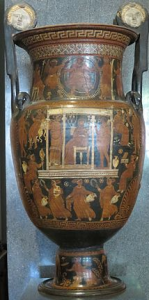 opposed to evil, return to the "being" of evil because it is non-being symbolic, the biggest problem is to rebuild the reflections of Plato and Aristotle, because the distance in time that we are thinking that although the founder of the west resounds strangely in today's culture.
Just think of John Rawls are addressing the issue of fair, in The Theory of Justice, when it states that the two main concepts of ethics are "the concepts of right and good" (Rawls, 2002, p. 26), but an analysis detailed we will see that the good of the Greeks is not to Rawls.
As for Rawls' good of a person is determined by what is for her rational life plan "(2002, p. 437) therefore has to a relationship with the social structure in which we live, beyond the "rational  plan" it is questionable.
One might argue, but we are talking about the concrete society we live in, but rather in history often unknown to the root of the thoughts not only have little depth in question it, but mostly tend to repeat certain mistakes.
Plato in The Republic, has a rich quotation in details that can help us in this task to mine what is good in Western thought:
"Who is not able to define in words the idea of ​​good, separating it from all others, and, as if in battle, exhausting all rebuttals, striving to give evidence, not through what appears, but the that is, advancing through all these objections with a foolproof reasoning, Do not bear a person in this condition know the good itself, or any other good, but if chance has contact with any image is the opinion, and not by science grabs it, and that your current life begins to dream and sleep as before awakening it here first descend to Hades there fall into a full sleep? "(The Republic, 534 b, c).
Two explanations necessary what is thought and what is down to hades, idea for Greek comes from eidos, it means going beyond appearance, going beyond its boundaries and has little or nothing to do with our idea today, that is idealist coming from Kant and "rational plan of life" of Rawls, who may have little to do with life.
Hades in Greek mythology is the land of the dead, the place where the souls of people would head after death. In this place the souls would undergo a trial where his fate would be decided (In the illustration Greek pottery from the dead).
To understand the good we must think beyond the appearance, eidetic, and soul that one day descend to the realm of death, but you can try it now in life, and Plato was not a Christian.