Arquivo para December 5th, 2016

The recent US elections, but also many others, have revealed a terrible way to c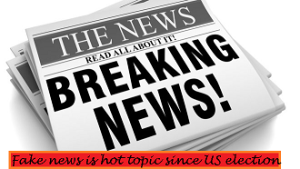 ampaign politically, "planting" false news on fragile points of a certain politician.
Unfortunately social media, not to confuse with the networks of people, but only media, there are a large number of false news, there are already specialized websites denouncing them not only by the evil that do the particular person, but mainly to badly unmask a bad intentional..
They have come to the point of worrying companies like Google, Facebook and Twitter that try to create measures that combat these intentional lies, that is, they are only meant to confuse.
Now technologist Daniel Sieradski has developed a plug-in known as a BS Detector that indicates "questionable" sites that are used on Facebook and Twitter.
In Brazil, the site boos.org reveals, for example, rumors such as "video inside the airplane of the Chapecoense", "clandestine cocaine factory in Bangu", "NASA confirms land will have 6 days of darkness in December 2016" , etc. etc.
But we can take 3 simple steps to prevent us from propagating this false news: 1) even if it favors our position to investigate whether what we are reading is true and NEVER disclose it on impulse; 2) bombastic news will usually be confirmed in the press and wait for public agencies to confirm them, CONSULT PUBLIC SITES, and, 3) even if the news is true never divulge it in a way to cause PANIC.
The device created by Sieradski, as reported by the BBC News, puts a red stripe that reads: "This site is considered a questionable source," and denies Mark Zuckerberg Facebook that it "would be unable to substantively address the proliferation of false news On its platform, "the plug-in already has more than 25,000 installations since launch.
BS Detector Sieradski says it will evolve: "I and other open source developers spend many more hours improving their functionality," he told the BBC.