Arquivo para January 5th, 2017
We left some of Sloterdijk's I Spheres to talk about the Golden Globe, the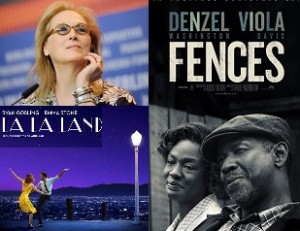 Hollywood Foreign Press Association (HFPA) award to be held on January 8.
The Golden Globe precedes the Oscar and often avoids surprises, a major award this year, according to Globo's website, is the critically acclaimed musical "La la land: Singing Seasons," which rescues the genre that made history in Hollywood, (Carrie Fisher), his mother Debbie Reynolds, a day after, who made the historic Sing in the Rain.
La la land as best comedy or musical film, also contends best director (Damien Chazelle), best actor in comedy or musical (Ryan Gosling) and best actress of comedy or musical (Emma Stone), as well as direction and original script (Damien Chazelle), song and soundtrack.
It will compete with the "traditional" film, the social networking film "Deadpool," with other nominations also for best actor in comedy or musical with Ryan Reynolds.
With many indications also appear the dramas "Moonlight" with six nominations, and "Manchester seafront" with five.
Best director, along with Damien Chazelle ("Land Wing"), Tom Ford ("Night Animals"), Mel Gibson ("Till the Last Man"), Barry Jenkins ("Moonlight") and Kenneth Lonergan -sea").
Best Movies: "Up to the Last Man", "At Any Cost", "Lion", "Manchester by the Sea" and "Moonlight".
Meryl Streep, who is the best actress in comedy or musical for her participation in "Florence: Who's That Woman?", Will receive a prize for the work as a whole.
Among the best animations: "Moana", "Ma vie de courgette", "Kubo and the magic strings", "Sing" and "Zootopia", I missed the "Trolls" hopefully it will appear on the oscar list.
There are many other indications, with the little remembered, but interesting (I only saw the trailer, but the story strikes me as genius) "Fences", which appears in the list of best supporting actress Viola Davis and best actor in drama Denzel Washington The director), should appear at least as best director and best film.
There is no indication for Star Wars and some pointers for "The People v. O.J. Simpson: American Crime Story" as the best actor for John Travolta, a bit forced.