Arquivo para January 25th, 2017

There are likely to be Trump's remarks, some reference to last year's white Oscar,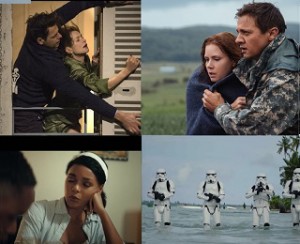 but nothing more patriotic and American than the festivals, La Land is interesting, but 14 nominations tell you what in fact Hollywood is very American, as not to remember the famous Hollywood musicals? It's good, yes, but not so much.
Like this La Land equaled Titanic in 1997, and Evil in 1950, in central nominations as Best Picture, Best Director (Damien Chazelle who has won two Golden Globes), Best Actor (Ryan Gosling) and Best Actress with Emma Stone .
Behind the musical, there are 8 nominations and the drama Moonlight: Under the Moonlight, Science Fiction "The Arrival", and then Manchester by the sea with 6 nominations and we have already said that it is not all this.
Still in the Hollywood style could not miss a war film, Mel Gibson's "Until the Last Man" and a modern Western like "At Any Cost"; As for the dramas, are: "Stars beyond Time", "Lion: A Journey Home" and "Fences", which is one of my favorites along with "The Arrival".
Meryl Streep, who in the Golden Globe where she was honored in honor of Donald Trump, hits a record with 20 Oscar nominations (only won 3) as best actress for her role in "Florence: Who's That Woman?".
Also noteworthy is the Englishwoman Isabelle Huppert ("Elle") (first photo above), who should not take, but I am in her fans, along with "The arrival" (right photo),
Viola Davis has already won the Golden Globe Award for best supporting actress, could win again, but is likely to go to Naomi Harris ("Moonlight: Under the Moonlight") (pictured below), the other nominations being: Nicole Kidman ("Lion: A Journey Home") and Octavia Spencer ("Stars beyond Time") do not deserve it.
Perhaps Star Wars ("Rogue One: A Star Wars Story") (pictured below) has a special effects consolation prize or sound mix, fans were expecting some more indication.
In animation Trolls had no indication, maybe Moana: an evil adventure might win, I went to watch with children who found the language a bit difficult, the others except Zootopia, who has something different, "My life of zucchini", "The red turtle "And even the funky" Kubo and the magic ropes "is nothing special.
The award will be here a month, February 26 and will be presented by Jimmmy Kimmel.