Arquivo para July 3rd, 2018
Beavers, termites and other creatures build structures in response to environmental problems,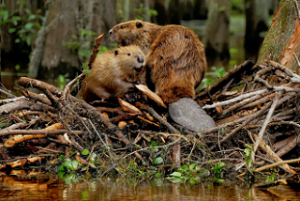 the idea of ​​using these strategies in autonomous robots was made by researchers at the University of Buffalo. In the new system the robot continuously monitors and modifies its terrain to make it more mobile, similar to the beaver that reacts to the water flow building a dam, what kind of intelligence is this, Thomas Nagel would ask what it's like to be a beaver?
The problem is not so simple and the algorithms must change when there are unpredictable and complex spaces, for this resorted to a biological phenomenon called stigmatics, which is an indirect co-ordination reacting to a problem, biologists and zoologists study this. Researchers using this new algorithm, equipping the robot with a camera, a specialized software and a robotic arm that lifts and deposits objects, placed bean bags of different sizes around the area, in 10 tests, the robot changed from 33 to 170 bags, each time creating new ramps to reach their destination.
A release of this work is on the University of Buffalo website, and the paper will be presented last week (June 25-30) at the Robots: Science and Systems conference in Pittsburgh.