Arquivo para July 12th, 2018
We have already posed here on structuralism, and what we consider late effects of modernity in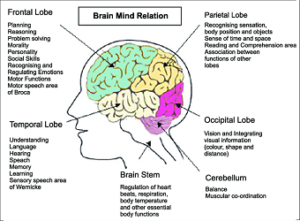 what he called structuralism or deconstruction, which before Derridá are already present in the thought of Alun Munslow, and this in turn has a "deconstructionist" perspective linked to thought by Hayden White and Keith Jenkins, which can be read in Rethinking History.
But the aim here is to make a reading, even if it is almost impossible, of the angle of vision of the mind, there is an aphasia called Wernicke, which is precisely the change in oral and written language, which makes communication without precision because of of some neurological injury.
This is particularly interesting because it means that it is possible, under restricted circumstances, to link the mind to an anthropological process of its development, and to make the "mentalist" process linked in some way to the historical.
Thus the relation of the cerebellum is linked to the muscular and coordination functions, while the brainstem regulates the bodily functions (heart beat, body temperature, etc.) and the temporal lobe: understanding, language, listening, memory learning, but curiously it is there that is linked to the area of ​​oral and written language, called Wernicke. In the areas of superiority are the areas of human development historically posterior, especially in the Frontal Lobe: morality, reasoning, personality and others.
Nagel touches on the dilemma of body and mind, we already speak of the mind of the other, starting from the premise that admits that the other is conscious, and if one does not agree with skepticism, it is known that the relation of consciousness with the mind can only be that which "depends on the body," or on reality. In order to explain his thinking, he makes the experience of eating a chocolate and asks if with instruments that could measure the sensations inside the brain: "But could you find the taste of chocolate?" (Page 31).
"But people think that believing in a soul is something outdated and unscientific. Everything else in the world is made of physical matter – combinations of different chemical elements? "(Page 32)," scientists have discovered what light is, how plants grow, how they move their muscles – it's just a matter of until they discover the biological nature of the mind. This is how the physicalists think. "(P.33)
In the realm of the mind, mentalists have been called here. The author explains that an "advanced theory of physicalism [mentalism] is that the mental nature of their mental states consists in relations to the things that cause them and things they cause" (page 36), a return to chance, which contemporary physics itself tried to deny, Heisenberg enunciated and particle physics and astrophysics proved.
The subject is complex, but Nagel's book is a good introduction to the body-mind problem.
Nagel, Thomas. What Does It All Mean? A Very Short Introduction to Philosophy, UK: Oxford University Press, 1987.