Arquivo para September 18th, 2018
An open source digital software platform for art curation and sharing between museums and other art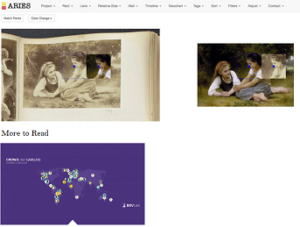 exhibition environments was developed by collaboration between researchers at New York University (New York University) and art analysts and historians at the Frick Art Library Reference of New York.
The ARIES platform, available for free from ARtImageExplorationSpace.com, simplifies the organization, exploration and analysis of digital collections, allowing experts to manipulate images.
The developed toolkit allows users to enlarge features, filter images, add annotations, change lenses, tag images, select and color images (see picture) and share collections.
Claudio Silva, of NYU Tandon, stated that "since ARIES is also Web-based, it is portable and free of the complexities of installing a system.
This is especially important for our target users, who have little or no computing experience." ARIES was developed by a multidisciplinary team, including Claudio Silva and Juliana Freire, and by professors from the Department of Computer Science and Engineering of NYU Tandon and faculty members of VIDA Center Lhaylla Crissaff and Marcos Lage, are visiting NYU researchers Tandon João Rulff, VIDA associate researcher Luke DuBois, artist, professor and co-director of NYU Tandon's integrated digital media program; and Louisa Wood Ruby and Samantha Deutch, research director and assistant director of the Collection History Center at the Frick Art Reference Library, respectively.
Claudio Silva said the team is releasing new features incrementally and plans to make the software more robust, in order to improve documentation, tutorials and case studies in order to broaden the user base. As you can see at least, the project was part of the CNPq-Brasil scholarship support and is supported by a grant from the National Science Foundation Computational Research Infrastructure (CRI).
Frick Art Reference Library was founded nearly 90 years ago (1934) by Henry Clay Frick's daughter (1849-1919), Helen Clay Frick, is in the building at 10 E. 71st Street, the Library is one of the leading references in history and collections of art.