Arquivo para June 3rd, 2019
I get the news in the morning of the 1st. of June working at home, Michel Serres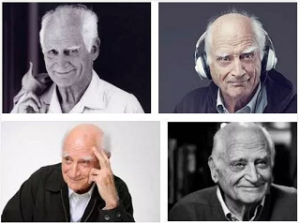 passed away, I remember several things of him that I gave in class for having appreciated by the new technologies and to make analyzes less pessimistic of this aspect.
I also remember his words about Hiroshima, who affirmed it as the sole objective of his philosophy, in the sense of peace, of course, he said that he had no influence from thinkers, but he was guiding nothing less than Bachelard, he lived with Jacques Monod, and did a published interview with Bruno Latour.
In this interview she stated: "it is carnally formed in this atrocious environment and has remained, since then, removed from all politics: power continues to mean only corpses and tortures to it", the problem of violence has always been its main problem and hence its work .
He did not follow the traditional French epistemology that in his view is based on the separation between "sciences" and "humanities", his perspective was to create a bridge between one field and another, the primacy of the course on the discourse (see that there is difference) , in short the search for a generalized theory of the place.
He wrote in The Leibniz System: "Through the most distant regions there is often an underground relationship that intuition alone can not attain, nor can immediate knowledge or discursive knowledge, but which can be attained, by a pure and refined formalism … The aptitude to the diverse is proportional to the initial purity."
Alongside Michel Foucault, in the early days of the University of Vincennes (Paris-VIII) in 1968, he formed a generation of researchers and thinkers who had him as a great teacher.
Among the faceted ones of Serres, the one of historian of the sciences, in "Elements of History of Sciences" (1989) was revealed. Under his direction worked Authier, Isabelle Stender, Bruno Latour and Pierre Lévy, just to mention what is best known in Brazil.
He saw in the new technologies not a curse that cushioned relations, they were dampened by modernity and non-originating knowledge, he affirmed that a new Pedagogical Society is yet to be born.
He said in a prophetic tone, that our communications world is aging, giving birth to a pedagogical society, that of our children, where continuing education will continue for the rest of our lives, an increasingly rare work.
The universities at a distance, everywhere and always present, will replace campuses, closed ghettos for rich adolescents, concentration camps of knowledge … "(SERRES, 1995, p 56).
SERRES, M. The legend of the Angels (in Portuguese), São Paulo: Aleph, 1995.