Arquivo para June 25th, 2019
Freedom, liberalism, autonomy of reason, possibilities of countless experiences this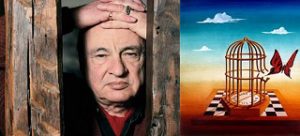 was the fascination of the man of modernity, however he forgot his being. In his works almost always functional, Edgar Morin says in Freedom Anthropology: "Freedom is a possibility of choice", therefore, between real and possible possibilities, without leaving aside, of course, the possibility of exploring and understanding what is imaginary.
Modern man with rationalism and the exploitation of knowledge: "Sapere aude," cried Kant, he wanted to get rid of the constraints of the environment, and with the possibilities of ample use of intelligence and conscience he found himself subject to norms, taboos, myths, ideas, beliefs and ultimately to society, which imposes laws and prohibitions.
But Morin warns that we are also possessed by our ideas, and not only him but a whole group of thinkers affirm that we walk towards uniformity.
He described his method of the empire of environments, with this it is necessary to replace the concept of external environment that imposes fatalities on living beings by the "idea" of dependent antonomy [1], we are subject to the physicochemical environment, for example, but these are integrated into a living self-organization [2].
The third point is to understand what autonomy means, a more concrete form of freedom, it is dependent on the external environment from which it withdraws energy and organization, all living autonomy is dependent [3].
Before we are born, we have already posed with respect to the fetus inside the mother, we have inherited genes from the parents, then in the external environment the forms of accidents, losses, encounters intervene, and within each one there are several decisions that cannot be taken as the logic of decision of a machine, this involves aspects of changes of values and even of states of the soul, a conversion to a faith or a deconversion with new effects.
In a recent talk, Morin said that we walked like sleepwalkers to disaster, this is not the direction of an autonomy of freedom, but rather the idea of a greater restriction, what Martha Nussbaum called the "empire of fear."
We return to becoming automata, and as we walk as somnambulists, possessed of a certain automatism, a certain possession, but even being machines, we are non-trivial machines, but the ideal is to overcome the machine state and acquire true consciousness: consciousness of Being.
In consciousness is the act of self-affirmation of the subject and in the act of self-affirmation of the subject is the act of self-affirmation of consciousness.
With all the criticism of the current conditions, Morin says that it is possible to live the poetry, see the video:

[1] E. MORIN, La Méthode 1. Paris, Seuil, 1977; idem, La Méthode 2, Paris, Seuil, 1980.
[2] Idem, La Méthode 2, págs. 108-110.
[3] Its dependence on the ecosystem is circular. The living portion of the ecosystem (biocenosis) consists of the interaction between living beings and depends on them, which in turn depend on it.