Arquivo para August 19th, 2019
This is what Japan promises, already in 2015 they had bought this right without even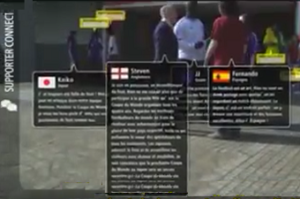 knowing if the technology would be mature, with the 5G internet and the possibilities of drones that map the movements of each player in the field, let us remember that the idea Player movement has been possible for a long time, with games available every cup.
As the Qatar Cup is being questioned, Japan has already proposed to host saying that the 2002 World Cup, which by the way Brazil was Champion, has proved the infrastructure capacity and qualities of football stadiums, now launches as an alternative to Qatar .
Suminori Gokon, chief director of the Japanese World Cup committee, said it was time to return something like a return to the participating countries, as well as entertainment, with the possibility of a free point view that allows fans to navigate the field. Choosing the field of vision that I have from the game, I am already imagining a VAR with these resources, would reach the body of the player to observe the contact in a foul.
It proposes an augmented reality not yet known which is the possibility of not only capturing the lines by lip reading, they also translate the lines in several languages ​​(photo), of course the mouth in hand to speak will become a total craze on football fields.
In South Africa the president made an appearance using hologram technology to be present at two events at the same time, recently Portuguese TVI used the pivot journalism José Alberto Carvalho to make a Vodafone promotional call on the premises Vodafone Paredes de Coura, more than 400 km from the studio, due to the speed of 5G transmission, it is not possible to notice the delay in speech that he was making with the other caller at a distance.
Below the video where Japan purports to be the holographic broadcast promoter of the 2022 World Cup: