Arquivo para November 7th, 2019
We are full of certainties, which is different from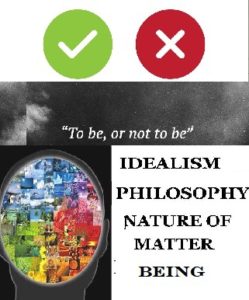 reason although we often say that we are "right", certainty is a cognitive aspect of the subject (idealism will be called subjective) that is lived by certain conviction, truth on the other hand is ontological , that is, it is of Being.
What did St. Augustine mean by saying that Truth dwells within every Being, being religious means the presence of God, but it can be thought of in a broader cosmological sense, we are all part of the same universe, and while Being though part, we belong to the whole, the cosmos and its complexity.
Thus ontological Truth are properties of statements as far as they can be proven, the Greeks use the expression Aletheia, in the a-lethe (not forgetting) sense which is still widely used in Western civilization, but there is another meaning which is "Language it is the house of being ".
Latin carries a meaning of truth as a logical statement, in the opposite sense of Truth, although Latin has developed scholastic ontology, in fact, it is bound by the study of language, whose nominalist truth has created great controversies with realism.
A third meaning is the Jewish Emunach, from which comes the ethical-moral concept from which almost all Western ethics is descended, and not by chance is linked to "law", but in Judaism it is within each person, and in this sense linked to the idea of "faithfulness" to rules and laws.
Modern society has built two new modalities of truth, philosophers prefer the word plurivocity, the utilitarian and pragmatic, what is useful is true, the rest is disposable and changeable. Just to explain plurivocity is not univocal.
It was through Husserl that ontology and general metaphysics gave way to new concepts, where the idea of Being can be seen within a formal and material science of essences.
The importance of cosmological discussion is that it being in the field of theology and psychology can and should be seen in contrast to dualistic ontology sees the world separated in body and spirit, curious because one of the most commonly used metaphors to define the set of souls is the body.
One of the best-known passages is the letter to Ephesians: "If the whole body were an eye, where would the hearing be? If the whole body were heard, where would the smell be? "(1 Corinthians 12:17).
The basis of spiritualism and Pharisaism is ontological dualism, one sees the spirit and the other only the body, and this comes from idealism, where reality is all spiritual, matter is an illusory representation of truth.
Andy Postner is co-founder of Capital Good Fund (CGF), a nonprofit microcredit based in Providence Rhode, Island, and created ways outs of poverty, see he´s TEdX: