[:pt]Como o dualismo permanece presente hoje, se concebe a essência por analogia ao
Ser, e esta também era a doutrina tomista, ela permaneceu como uma onto-teologia até o século XX, foi preciso todo um percurso da fenomenologia para encontro o Outro, o não-Ser não como contradição, que o fim do dualismo entre Ser e essência iniciasse.
A longa discussão do período medieval entre realistas e nominalistas, tinha como base um termo hoje desconhecido que era a quididade, que significa que coisa a coisa é, desde a hylé grega até os modelos modernos da metafísica de Heidegger, onde a coisa que pode ser material ou não, e também o que pensamos sobre ela, na linha de Husserl só existe consciência de algo, ou da coisa.
Mas existiu um filósofo na idade média, Duns Scotto (1266-1308) que não fazia distinção entre a coisa que existe (si est) e o que ela é (quid est), e teologicamente era complicado pois a tese de Tomás de Aquino (1225-1274) era pela analogia, ou seja, o significado de semelhança entre coisas ou fatos (dicionário Houaiss, 2009, p. 117), e os religiosos sempre apressados cuidado porque no século XX Duns Scotto foi aceito dentro da doutrina cristã católica, tornando—se beato (João Paulo II o declarou).
A sua teoria do conhecimento usava as duas distinções conhecidas distinctio realis (distinção real) e existe entre dois seres da natureza, e a distinctio rationalis (distinção de razão) que se dá entre dois seres, mas na mente do sujeito que conhece, mas rompe o dualismo ao criar uma terceira possibilidade a distinctio formalis (distinção formal) que se dá no ente percebido e não é nem real e nem na mente.
Assim além de seu discípulo William de Ockham, famoso pelo princípio a simplificação chamado Navalha de Ockham, mas de certa forma Descartes, Leibniz, Hobbes e Kant tiveram sua influência.
Porém a recuperação de Duns Scotto é fundamental para superar o dualismo nominalismo/ realismo e a superação do puro realismo pelo hermenêutica filosófica, e assim também o correspondente moderno do nominalismo que é a viragem linguística faz sentido e abre diálogo.
Não é, portanto, a afirmação do realismo nem do nominalismo, mas o fato que podem dialogar dentro de um círculo hermenêutico é que importa, a recuperação filosófica do nominalismo na viragem linguística, e na fé cristã do nominalismo de Duns Scotto não é sua verdade, mas sua importância para o diálogo filosófico.
Em tempos de pandemia seria muito mais importante a fraternidade de socorrer vítimas, que o debate ainda incerto da ciência e das "crenças" que este ou aquele procedimento é certo, em ambientes hostis quem venceu foi a morte, assim dogmáticos e autoritários só atrapalharam.
[:en]Although dualism remains present, the essence is conceived by analogy to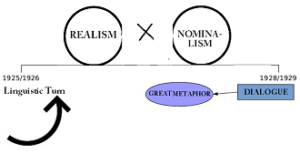 Being, and this was also the Thomist doctrine, it remained an onto-theology until the 20th century, it took a whole path of phenomenology to encounter the Other, the non – Being not as a contradiction, and the end of the dualism between Being and essence.
The long discussion of the medieval period between realists and nominalists was based on a term now unknown which was quididade, which means that thing is, from Greek hylé to modern models of Heidegger's metaphysics, where the thing that can be material or not, and also what we think about it, in Husserl's line there is only awareness of something, or of the thing.
But there was a philosopher in the Middle Ages, Duns Scotto (1266-1308) who did not distinguish between the thing that exists (si est) and what it is (quid est), and theologically it was complicated because the thesis of Santo Tomás de Aquino it was by analogy, that is, the meaning of similarity between things or facts (Houaiss dictionary, 2009, p. 117), and the religious were always in a hurry because in the 20th century Duns Scotto was accepted within the Catholic Christian doctrine, becoming blessed (John Paul II declared it).
His theory of knowledge used the two known distinctions distinctio realis (real distinction) and exists between two beings of nature, and the distinction rationalis (distinction of reason) that occurs between two beings, but in the mind of the subject who knows, but breaks dualism in creating a third possibility to distinctio formalis (formal distinction) that occurs in the perceived entity and is neither real nor in the mind.
So in addition to his disciple William de Ockham, famous for the simplification principle called Ockham's Razor, but in a way Descartes, Leibniz, Hobbes and Kant had their influence.
However, the recovery of Duns Scotto is essential to overcome the dualism of nominalism / realism and the overcoming of pure realism by philosophical hermeneutics, and thus also the modern correspondent of nominalism, which is the linguistic turn, makes sense and opens up dialogue.
[:]