Arquivo para June 1st, 2020
We defend the use of LockDown here, since last week it would be late, now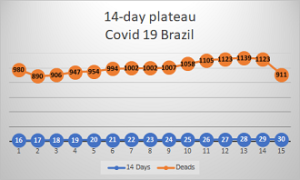 what the curve shows is a plateau in 1 thousand deaths during 14 days, depending on when it will start to fall it is possible to evaluate the extension of the plateau and the prospect of a fall, as a week-long holiday was made, with a small result, some response is expected in a week.
The outlook will be as slow as the rise, counting only from March to make the projection easy (March, April and May) we will have the curve retraction only in August (June, July, August) which even coincides with the end of winter, so the "new normality", because there is no way to predict what may happen afterwards even if there is a second wave of infection, only even in September.
Any plan that intends to open up more, with the collaboration and education of the population that has not happened until now, is an adventure, a plunge into the dark.
The sensible thing would be to allow the opening of trade with severe restrictions and punishments, the collaboration is at most half the population, which is insufficient to contain the contamination, and we still count on the disinformation sometimes aided by government officials.
We will come out of the pandemic more divided than before, with low morale because we were not led and we were not even able to unite, and looking for culprits will be worse than the pandemic itself because we will have to face a serious economic situation to follow.
Hoping that we will learn something from this, the thousands of doctors, nurses, assistants, drivers, rescuers and security guards who helped save lives, the solidarity of those who help the unemployed population and the institutions that struggle to maintain this aid.
It could be worse, if there were no social isolation and field hospitals that expanded the capacity of the health system, if there were no emergency aid for the unemployed and informal workers, in addition to the help of the family allowance (plan for poverty), but it is in the people the impression that a stronger decision for greater social isolation was lacking.
The pandemic has not passed, and the drop in the curve will depend on the population and surveillance.