Arquivo para June 15th, 2020
The scourge of the pandemic that could have united Brazil now turns fear into terror,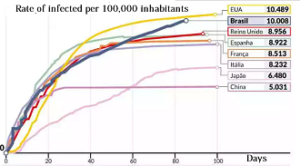 rates continue to advance even though the number of deaths remains on a plateau around 1,000 daily deaths, with up and down variations.
The result that gives a sentence now is the contamination rate per thousand inhabitants, and winter arrives in the country next week, cities that opened the trade start to retreat, shows a faltering policy between saving the economy or reducing the number of deaths, and the political struggle.
The polarization that has existed since the elections threatens to return with more radicality, there is no scenario that gives us hope, nor of reducing mortality, which should be a priority, nor of resolving the political crisis that could encourage and lead to a strong policy of social isolation.
Thus, the country is becoming the most critical case and contributes to an international isolation, those who wanted to save the economy have not yet understood that a serious policy to combat the covid would minimize economic results, save lives and perhaps unite a country that is increasingly divided. .
There is no lack of commentators at least malicious, I read from a famous media philosopher that afterwards there will be joy and euphoria, I would like to believe this, but as unemployment alone is already huge.
If there are no sensible minds and interested in saving lives (which also minimizes economic costs) we will navigate in confusing situations and that the data already show, there is no sign that the invite can retreat, we defended in early May the #lockdown, if it comes now it will come as a measure of despair, and without popular support, the 3 months of poor quarantine, exhausted the population's spirits.
It is not a conflict caused by the media, by the opposition or by ideology, it is a lack of wisdom and wisdom, we put those who are at the forefront of the battle: doctors, nurses and rescuers, in addition to workers in essential services in a difficult situation, tired of us ask: stay at home, have not been heard.
The hope is that the disease itself stationed on the plateau of a thousand daily deaths will start to recede.