Arquivo para November 12th, 2020
Gifts are things we do and we seem to be born with it, that's why it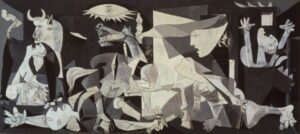 was translated into Portuguese as a "dádiva" (godsend), while talent we can have an aptitude but it needs to be developed and improved to become really a gift, so we receive it from someone, from a structure or culture and we need to spend it.
Some cultures bring natural gifts, so it is said that that culture has good cooks, those are born workers, but a harmful or unnatural culture may not develop talents and even depending on authoritarian structures, suffocate it, but also in a white way a culture can spoil them.
Artistic, aesthetic and even moral gifts depend on a culture that promotes their development and make them talents that can be "donated" to the population in general, any culture that suffocates natural gifts is retrogression and may even lose its original roots , so many people who were colonized, marginalized or inferiorize suffer this type of mutilation, but there is always a way to resist, Picasso's work "Guernica" is an icon of the Spanish resistance to authoritarianism, it only returned to Spain with democracy.
Also social, educational and religious structures can stifle natural gifts, and with that the talents that must be developed do not arise, they perceive the crisis process that lives, but they do not perceive the root and focal point of the crisis, they kill the talents and stifle the natural gifts that will generally endure.
It is the main characteristic of an authoritarian system, stifling talents and trying to control gifts, so few artists have survived in both Soviet Stalinism and Nazism and totalitarian regimes that served as support, such as Spanish Francoism and Italian fascism, but also modern perish from this evil.
Art is always a moment of resistance, Byung Chul Han developed the concept of Secret Garden, where it is possible to smell, feel and things, without mediation, a way to recover what he calls "original beauty", the term it is good, but it should be combined with the concept of original gifts.
Da Vinci also stated that the "supreme law of art is the representation of the beautiful", already for Kandinsky: "It is beautiful what proceeds from an inner need of the soul".
According to Aristotle "beauty is the splendor of order", but because of the association of this word with positivism, I would make a paraphrase saying that beauty can contribute to an original harmony that leads us to the good and beautiful as intended by Plato, a dialogue that leads the soul beyond the physical world, then there is the gift, the part of the original culture of each person and each people.
Combining gift and talent, we have a natural gift that, developing within a favorable culture, becomes a talent and elevates us as Being.