Arquivo para February 22nd, 2021
There are several variants, especially South Africa, Brazilian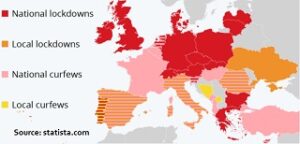 and British, although there are controversies about their severity, it is certain that the spread of the virus is faster, and in the Brazilian case it already seems to be present in good part of the Brazilian territory, there is no isolation of regions and combating the pandemic is one of the most inefficient and faltering.
Vaccination remains slow, but results in Europe are more effective because they are combined with restrictions and confinement policies, and are also in late winter, and the arrival of new batches of vaccines is expected, AstraZeneca confirms a batch 10 million vaccines for Brazil at the end of February, but vaccination is slow in other countries as well.
The so-called third wave is due to Europe's release for Christmas and the end of the year, many governments have recognized the error, here in Brazil the beaches continue to register movement and there is no clear policy to avoid agglomerations, it is not just about closing stores and commerce, as some cities have even done with supermarkets, the central problem is awareness.
The third wave then came because of the liberality of the holiday season, and soon afterwards almost all of Europe closed, including Sweden, which was more liberal until the arrival of winter, the only country that begins to release gradually is Greece but it had a very austere #lockdown.
Another concern is with the third wave is the variant, the infection is faster and quickly fills hospitals and creates a situation of chaos in the already stressed health system that struggles for a year with the most serious cases, Covid's numbers officially fall worldwide and is restrained in Europe, but the measures remain severe.
The number of vaccinated people in Brazil exceeds 5.5 million, but the pace could be higher, the problem is the supply, 18 million more doses of Coronavac and 16.9 million of AstraZeneca are promised for March, the other Chemical Union / Gamaleya and Precis / Bharat Biotech are on schedule, still for the first semester, the laboratories produce the Sputnik V and Covaxin vaccines, respectively.
The state of Amazonas has the highest number of vaccinates 4.87%, while São Paulo has the highest in absolute numbers, a total of 1,620,182 people vaccinated in a percentage of 3.5% population, with a large percentage of second doses.
The map above shows the various lockdown situations in Europe.