Arquivo para November 15th, 2021
It is sad and distressing, but the pandemic is not over, Europe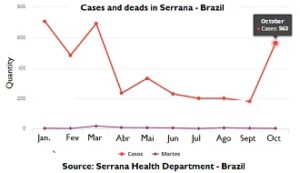 is very concerned about covid-19 and in Brazil, where the numbers have not yet dropped from 260 deaths a day, and the Oswaldo Cruz Foundation of Brazil (Fiocruz) registered a increase in children in cases of respiratory syncytial virus (RSV) with records higher than Covid 19.
While cases are on the rise in countries like Germany, Russia, Hungary, Slovakia and the Czech Republic, Russia set a new record for infection and deaths last week (It has only 34% of the population vaccinated), concern is growing over the arrival winter, and in Austria the government decreed a lockdown for unvaccinated people.
In Russia the measure taken was a national recess from October 30th to November 7, in Germany the director of virology at the Charite hospital in Berlin emphasized: "We have a real emergency now" as the country has registered almost 40,000 cases of covid , the biggest since the beginning of the pandemic, and made an alarming prediction, 100,000 people could die.
In Brazil, although moving at a slower pace than in the previous period of vaccine vaccination, the number is increasing and in many places there is a demand for people who did not come for the second dose. close to 59% of the Brazilian population is fully immunized and almost 80% have already received the first dose.
Seven Brazilian States are on the rise after a sharp fall in the previous month: Santa Catarina, Pará, Roraima, Rondônia, Bahia, Ceará and Piauí, a case that drew attention was Serrana (Brazil), where the São Paulo government carried out a mass vaccination trying to make the model city for vaccination, there were 563 cases in the last month and such a high number (the city has 45,644 inhabitants) did not have a clear explanation (see photo, official data from the municipal health Departament).
The end of the year parties are approaching and the concern is with the surveillance that does not exist in public spaces (concerts, shopping malls, supermarkets, etc.) and a flare-up of the disease would not only bring a worsening of health, but would extend the social crisis that is already affecting unbearable levels, there are no measures around this aggravation, the rise in prices is there.
Another worrying factor is now the psychological health of the population subjected to high stress and constant pressure of concern about the disease without clear policies, it is already possible to observe a large number of people with changes: anguish, tension, depression and antisocial attitudes, overcoming the crisis will require a lot of public efforts.
It is easy to observe in the markets and in daily consumption an increase in alcoholism and use of medicines, the end of the year parties could improve this aspect, but the social crisis does not help, the parties should be modest or in non-Christmas parties where the exaggeration and Drinks allow you to tap into the energies contained in the pandemic.