Arquivo para February 18th, 2022
Last week we talked about how famine, pestilence and wars were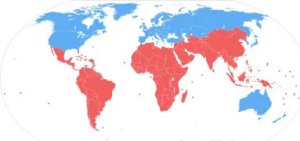 closely correlated, in yesterday's post we showed how the "division" of Europe was in the post-war period, the first North African countries that were under France (Libya and Tunisia) and Spain (Morocco), and we discussed the wars that still take place there due to phosphate mining.
Virtually all of Africa was colonial, except for Liberia and Ethiopia, the latter, which is still the headline of famines and wars, is now joined by Somalia, which was an Italian colony, in the post-war period Russian influence in the liberation struggles increased. influence in several regions, such as Angola, Mozambique and Guinea Bissau, but practically all of Africa enters this boiling process, and the allied forces that had formed the United Nations, Japan defeated in the war had to recognize the independence of Korea (until then unified) and the concession of the Kuril Islands to the Soviet Union, but which have recently fueled tension between Russia and Japan.
So the United Nations was not able to promote independence without big and bloody wars in Africa, some still persist, decolonization is just a new way of dependence, just as in America dependence on ideological struggles, these cultural and internal, never allowed real peace and an end to the cold war.
The fall of the Berlin Wall and the dissolution of the Soviet Union, with several countries becoming independent and returning to their original culture, it is a mere illusion to think that they are buried by ideologies, it seemed to give rise to a world where political, cultural and religious diversity would be tolerated, although the Arab tension never happened, the Arab Spring was an encouragement, but the forces that are still alive within these nations are still operating vigorously, see tensions in Libya, Congo, Sahara and many others, too Latin America is experiencing a polarization sometimes to one side and sometimes to the other.
The economic and political strength that China has gained, the new geopolitical influences of Russia, the tension between the north and the poor south, the crises of the democracies all seem to accelerate a process of establishing a New World Order, some more fatalistic currents call it for the acronym NOM, but in fact all this is just the boiling of issues that the post-war period has not resolved, the United Nations is still not what it promised to be a real "concert of nations" that live in peace and negotiate conflicts.
So we live a bipolar tension in many ways, north-south (photo), colonies and colonizers, ideological tensions that act today more internally than externally, and a pandemic that accelerated this whole process, if the world could be polarized it could be unipolar, there is a positive perspective that would be the real "concert of nations" and a bad one that is the polarization in one of the perverse factors that have already acted on humanity.
How to live with such huge cultural and political differences, a principle of friendship or peace that is always threatened is not enough, it is necessary to accept and defend diversity, to overcome the concept of "enemy" in the form of hate and intolerance (we wrote several posts to explain this), what in terms of Christian culture is called "loving your enemy", says the reading Lk 6:27-28: "I say to you who hear me: Love your enemies and do good to those who hate you, bless those who curse you, and pray for those who slander you", in other words neither unipolar nor bipolar, but a multipolar world.