Arquivo para May 18th, 2022
One of the most resilient native peoples of the colonization of the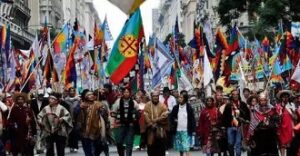 Americas is the Mapuche people, there are more than a million people who study in the south of Chile and Argentina, and find themselves once again betrayed by governments that promise freedom to live as a nation and be respected.
But the truest interpretation, which refers to a kind of original ontology, is Mapúmche, which means all beings that inhabit the cosmos: living beings, trees, stones, water, wind, etc. it is likely that the arrival of the Spaniards reduced the word to Mapuche, which simply means peoples of the land.
I read with sadness that the new Boric government, which promised in a campaign to suspend restrictive measures in the region that receives the colonized name of "La Araucanía" (name given by the Spanish colonizers) has returned to be militarized because of claims to indigenous lands.
The Minister of the Interior, Izkia Siches, said when sending soldiers to the region: "We decided to make use of all the tools to provide security" to the region and the long saga of the Mapuche continues.
The Mapuche have always known that language unifies them, Western ontology says that language is the abode of being, and they rejected the name Araucanos, which resembles the Araucaria and transforms them into aboriginal peoples, also the exotic idea that Mapuche would be derived from the Greek, of a historian Kilapan Lonko, who wrote "El origen greco de los Araucanos", a falsification of history.
Many Mapuche words entered the Chilean language, choclo (corn), huacho (illegitimate child), laucha (small mouse), quiltro (dog), ruca (house), etc. and a popular interpretation of mapuche is mapu (land), che (people in the sense of people), thus several places and cities in chile have the prefix hue: Carahue, Colhue, Pencahue and others.
The extract from the documentary "Los Araucanos", entitled "Mapuches: idioma o mirror da alma" from 1978, which mistakenly calls them Araucanian peoples, shows the importance of the language that the Mapuche have always had, which refers to the ontology of the native peoples.
The historian and professor at the University of Chile, the Mapuche Rodrigo Huenchún, also explains that culture has been increasingly appropriated as a political manifestation since the Pinochet dictatorship. Elisa Loncon and many others.
The recognition of the culture of peoples, if its original roots are at the root of true peace, this is the drama of modern man, of forgetting being, his experiences and his roots.