Arquivo para November 21st, 2022
Up for eight days, according to Uol's website, with an average of 235%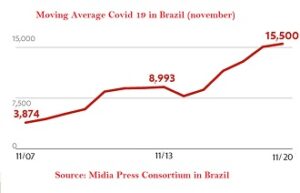 compared to two weeks ago, the regions with the highest growth in Brazil are the Southeast with 333%, the Northeast with 228%, the North with 170% , the South with 160% and the Midwest with 93%, the numbers worry researchers, such as the Fiocruz Foundation.
Data from the foundation of Boletim Infogripe 45/2022 state that 47% of cases of respiratory diseases are due to Covid 19, and in a note on Saturday (11/19) it notes that new infections of covid 19 have skyrocketed across the country, the most The detailed data indicate that respectable infections were 10.3%, 3% for influenza A, 0.3% for influenza B, 24.2% for respiratory syncytial virus (RSV) and 47% for Sars-Cov-2, among the deaths the presence of the same micro-organisms of the positive cases was 4.1% for influenza A, 0.01% for influenza B, and 1.4% for RSV while 83.6% for Sars-Cov-2 which is alertly, since even the number of deaths is still not great, the percentage is higher than the cases of respiratory viral infections.
The raw data are more than 600 daily deaths in recent days and the moving average reaching 15,500 cases, which characterizes the continuity of the pandemic process.
Sanitary restrictions are still partial, as it is a festive period it is possible that there is a higher tolerance limit, which is worrying, because even though commercial spaces remain open, it is almost politically impossible for them to close, care could be greater with hygiene and prevention with masks and alcohol gel, it is a fact that the population is tired, but it is preferable than going to death.
Government bodies need to take urgent measures, the current political crisis cannot prevent the pandemic from having new tragedies and the virus circulating more widely.
As we always do an analysis of the war in Eastern Europe, due to the seriousness and possibility of extending the war to the entire planet, we make a brief analysis of the retreat of the Russian forces at the same time that they try to undermine the country's air defense and energy capacity, a since the cold has already started there and heating is vital for human life in Europe.
The damage caused by the missile that was launched towards Poland, with strong indications that it was launched from Ukrainian soil, diplomatically weakens Ukraine and makes the West rethink military and financial aid in the country, the war will have dramatic contours in winter terms humanitarian.