Arquivo para December 6th, 2022
Theodore Dalrymple, is the pseudonym of the English psychoanalyst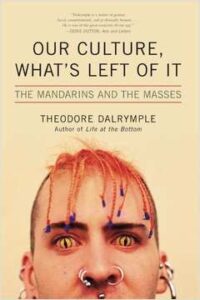 Anthony Daniels, who worked in English prisons with highly dangerous criminals, and saw in them not only aspects of poverty and exclusion, but also the development of a culture of tolerance for acts of arrogance, theft and immoralities.
In a book of 26 essays he describes how the cultural media spread this culture (picture inside).
He wrote in one of his works: "For the sentimentalist, there is no criminal, but only an environment that did not give him what he owed", and so those who said aloud that they suffered a lot in trivial situations of life, that many people go through and this does not mean that they fall into delinquency, of course this does not mean that re-education is not necessary, but preventive education is better than medicine.
It is not an exclusive sector of society, or just an ideological issue as many authors point out, but a matter of cultural influence, especially radio, television and cinema, when everyone starts to justify violence, hatred and cruelty , I remember phrases from the movie Joker that were repeated in a cult tone, for example, "cold, sarcastic and heartless. That's what I became and I thank society", the question is which society he chooses: efficiency or solidarity.
I don't want to give popularity or play the role of the cultural industry that I condemn, and it is the true producer of strange values ​​and without a humanistic perspective, as the psychoanalyst points out in his books, values ​​penetrate society through the selective publishing culture that is highly permissive in values ​​and customs.
True solidarity does not just condemn, there are cases where condemnation is necessary to repress violence and hatred, but education, gives dignity and rebuilds people who have succumbed to a society of efficiency and arrogance, I remember here another successful book, which I read up to the tenth page: "The Subtle art of turning on the f**k" (in English the word also starts with f), yes it is true that there is in the book a cry against perfectionism and the culture of the extremely efficient in photos and texts in the " media" of social networks, but it is important to remember that the author is American and there this is a general culture and not just in the media.
If last week we posted about the "paths" and the "paths", we now want to emphasize the micro-culture, the day-to-day with more empathy, more respect and less hate, and if possible more polite.
There is no way to find ways of solidarity and peace in society if the vast majority chose to fight with weapons equal to those that the haters fight.
DARLRYMPLE, Theodore (2O07) Our Culture, What's Left of It: The Mandarins and the Masses,