Arquivo para May 15th, 2023
The week was all about Ukraine: a visit to Rome and the pope, advances in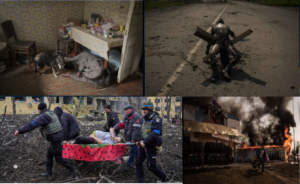 Backhmut and photos from the war that drew attention when they won the Pulitzer Prize, the photos are shocking and perhaps say more than words, since today there is even incomprehensible rhetoric favor of war.
In the strategic plan, there is no Portuguese analyst Germano Almeida pointed out: "here in the West we are not yet aware of the plans, so there is a Ukrainian idea that this is just the beginning and nobody knows where in fact this counter-offensive can be launched because the Bakhmut's question could be a first diversion maneuver [discussion] and the essential thing and the mass offensive could be elsewhere", says Almeida.
The visit to Italy, in addition to the country's already declared support, the visits to Italian President Sérgio Mattarela and with Prime Minister Giorgia Meloni, he also participated in a talk show on Italian TV, about the pope, all that is known is an agreement humanitarian assistance to refugees.
The images that won the prize also have a Brazilian on the list: Felipe Dana, from Rio de Janeiro, who filmed and photographed scenes from Bucha, the most cruel and violent massacre carried out by Russia in Ukraine (first photo below), it is worth remembering that the war was also from Vietnam had awards on the horrors there.
Some images from the 2023 Pulitzer Prize given to several Associated Press photographers, including the Brazilian, if words don´t move, maybe the images will.