Accessibility for all
How many facilities modern technology has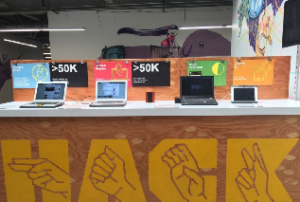 brought, imagine now spend the day without using your smartphone with touch screen, or without being able to use the mouse. You could still do his job? That's how many disabled people feel.
Accessibility Difficulties prevent millions of people to use a basic technology for business and pleasure, so it seems a good idea to build products that address these issues, ie make functional products for the disabled is already an afterthought, say a newscast of the Washington Post, but on thursday many companies announced a novelty.
Several companies, including Yahoo, Facebook, LinkedIn and Dropbox announced Thursday that they will develop a standard language that allows users known that will have new accessibility knowledge to get a job.
The move is part of a larger program called "Accessibility Education": a joint effort between the disability advocates, schools and industries of the technology to make technology accessible to all from the beginning.
The initiative arose from discussions organizations were already using a technology forum created by the American Association of People with Disabilities (AAPD), where representatives meet regularly to talk about doing the most visible accessibility issues in the technology world .
A set of procedures for job description may still not seem like much, but sends a signal to prospective universities on knowledge of accessibility issues is a big deal, he told American newspaper, Henry Claypool, a consultant on disability issues and former -vice executive president of the AAPD.