A large iceberg separates from Antarctica
One of the top ten came from Antarctica, the icy continent of the South Pole,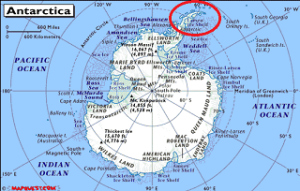 to the point where this continent could change its geography by losing one end, said Adrian Luckman, a professor at the University of Swansea and principal investigator of the Midas Project, which monitors his platform since 2014.
According Luckman "the iceberg is one of the largest recorded and its future progress is difficult to predict," and added that this ice island, "may continue to be assembled in a single piece, but is more likely to separate into fragments.
Some of the ice can continue in the area for decades and parts of the iceberg can float north and into warmer watert"the iceberg weighs more than one trillion tons, and measures 5,800 square kilometers (an area that is, for example, four times bigger than the city of São Paulo or equivalent to the Brazilian Federal District), has been released from the ice shelf Larsen C of Antarctica, between On 10 and 12 July 2017, according to researchers from Universities of Swansea and Aberystwyth, Wales, and the British Antartic Research Institute (BAS).
The Midas project website does not state that Whether due to global warming, this "scientific" proof is a bit more complex.
The event, although something similar happened in 2013, makes unquestionable global warming and the consequences that can be devastating over the years if we continue in climatic imbalances, such as the fires recorded in Europe and cold in southern Latin America, As we did last week.
 It is good to remember that the Trump administration unilaterally broke the climate agreements, and despite all pressure, especially the European, remains reluctant against the evidence that we must make the planet sustainable, and that we can move towards a huge climatic catastrophe with consequences In the life of the whole planet.h.