Ricardo Pereira or José Simão
Reading Ricardo Araújo Pereira, despite the common name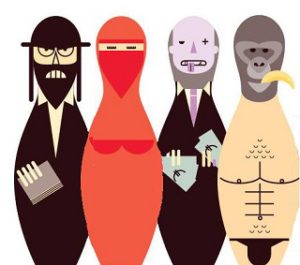 that in Portugal is almost names commons here, I discovered that he is José Simão (brazilian comics of Politics) from Portugal, but rarely appeals, there is only one "post", I explained that what he writes could be a blog, but he would not make money, only one speaks of the word "f." but then he ironically clarifies: "we are before someone who wants to say a bad word and can not – which proves that it is necessary to have training to be malformed", then doing galhofa culpa the Ministry of Education and the portuguese the spell Checker of Computer.
But in the rest of the book he appeals little, although the whole book is a criticism of the grumblings of the new puritans and agelastas, subtitle of the book, I use to explain that "agelastas", is that serious type that never laughs.
I remembered the title and the Ministry of Education when traveling with a very educated teacher, retired to 20 years and teacher of Portuguese and French, our equal to Brazil was chic to teach French here, when I asked of the use of two ces (they continue using ), she soon disversed and said she was concerned about education and people who read less and less.
He clarifies in one of the texts that what he writes is intended to make the readers read, although in a footnote says that this may be an irony, it is a kind of "mise en abyme" that in footnote says that can be found in the Wikipedia, of course another irony but it is there, used by André Gide to say of narratives that may have other inside them, at the foot of the letter "narrative in abyss".
Ricardo Pereira, throughout the book goes quoting authors from Shakespeare to Lewis Carrol (his text Against political mariquice, where he speaks of the book Sylvie and Bruno where the crowd shouted: less bread plus taxes), passing by Cervantes, George Minois who wrote the "story of laughter and derision," where Ricardo says it is written: "Laughter is too serious a matter to be left to the comics alone."
But I was thinking almost at the end of this book, I need a bit of laughter, but maybe not the mockery, maybe this is the evil of Brazilian comedy, a lot of mockery, humorlessness, a lot of appeal, and what's worse, we can only laugh at a certain party, the politically correct, so much for Dilma, she did have "celebrated" phrases.
Better than Trump quoted by Ricardo Pereira, who on being found an American drone in the sea of ​​China wrote on twitter that it was a "fact without president", to then correct for "unprecedented", but I will not fail to mention José Simão who clarified that the big difference between the President of North Korea and Trump is "who has the most beautiful tuft".
It is not alienation to laugh a little relaxes the tense environment not only national but worldwide, laughs the hills with a colleague of Portugal when saying that I have problems with their "paternity".
But reading is important, I quote here another passage from Ricardo Pereira in which he ironizes Angola where citizens were arrested for reading books in English, I learned that there is this kind of reaction also in Cameroon and Ivory Coas, Shakespeare is dangerous writer, Oh my God.