Why did artificial intelligence emerge?
The long road covered by Artificial Intelligence includes the construction of languages such as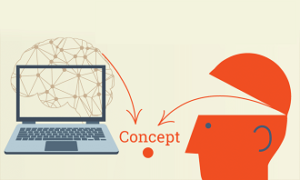 Lisp, Prolog, Haskel, but environments like DialogFlow, Watson, and
At the end of the 20th century there was a major crisis in AI, but the emergence of researchers in the Semantic Web resumed study and gradually, subjects like IoT (Internet of Things), Natural Language and Machine Learning (there is no translation, but we could say learning by Machine) emerged.
The fact that scares some is linked to the concept of "intelligence" and "mind."
This emergency has awakened the five largest technology companies in the world: Apple, Microsoft, Google, Amazon, and Facebook, which have started investing in smart people who can talk to humans.
Now 28% of consumers in the United States currently use some virtual assistant, these devices that integrate the AI technology of a voice assistant with a common home product has had great success, such as Alexa, Echo and Google Home, but the increase of sales to 39% annually were celebrated by companies.
In companies the concern for privacy, the operation is done using cloud storage, companies with sound assistants use different measures to protect the personal information of their consumers, but know that there are flaws in these defenses.
The audio sent to Google and Amazon is encrypted before being transmitted, leaving the data exchange supposedly safe, but the people database needs to be accessed in order for the machine to "develop" its learning ability.
Recently a researcher in the field of information security has demonstrated that it is possible to transform an Echo manufactured before 2017 into a perpetual recording instrument whose audio can be transmitted to a remote location without the user knowing.
To protect yourself from hackers, a good practice is to access your account and erase history of interactions with the services from time to time, but it remains to be seen if it has not been hacked in this period.
Apple's Siri, instead of associating the recording with the user account, associates the collection of the interaction with you with a series of random numbers.
With or without security, this market has grown and companies are watching, it is irreversible.