Where does Europe go?
Three issues take over the European news: the upcoming European parliamentary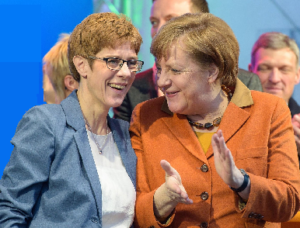 elections in late May, the UK exit in March and the yellow jackets in France.
While this is the conference in Davos that does not seem to bother with these issues, the absences of France, the United Kingdom and the United States show something strange.
With regard to the European elections, Makron's fragile situation in France and Merkel's term come to an end, less so in Germany where a new leader seems to have emerged, the new leader of the newly elected Christian Democratic Union Annegret Kramp-Karrenbauer (AKK) with 99% of the votes and could become the next German chancellor in 2021.
"I learned that leadership has more to do with inner strength than with outside noise," says AKK (pictured with Merkel) who rejects the title of "mini Merkel" that says they would not say this from a man, is more docile and more determined than Merkel, has 3 children and her husband always accompanies her.
Two European parties lead the bloc the EPP (European People's Party which are in the Christian Democrats) which has 265 deputies and the S & D (Socialist and Progressive Democrats) with 184 deputies, but the right with liberals and reformists promises to grow, just look the scenario of the countries and the exit of the United Kingdom, that will be in March.
France and Germany lead in number of deputies, have respectively 96 and 74 deputies out of a total of 751, in addition the German leader AKK speaks French well, and this block is fundamental to fight the nationalist wave that can weaken the European Union. Brexit, leaving the UK less and less united and more fragmented because of leaving the European Union, affects the European bloc in the sense that it can create a wave and also because it has a significant number of left-center deputies due to its still very strong in a UK divided by Brexit itself.
The yellow jackets seem too organized to actually represent any social contestation, to some analysts it seems somewhat orchestrated to strengthen a new kind of nationalism that has little or nothing to do with the actual population, kept to the right proportions, somewhat reminiscent of the demonstrations of 2013 in Brazil.