My first contact with Gaudi
Antonio Gaudi i Cornet (1852-1926), the artist, architect and mystic would only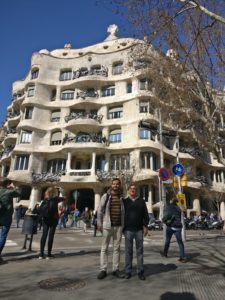 impress us if we walked through his work, felt his "aroma", everything I read in the books was below, because this, it is my first contact.
It was a strategic decision to see Gaudi in Barcelona from the outside in, the last thing on the first day was to see his main work The Holy Family, in his heart, is not always open to the public, in our case for a mass: in the crypt.
The next day was to stroll along the quay and the places where Gaudi went, we also passed the corner where the tram (electric in Portugal) ran over him, he was incognito days until they recognized him and on the third day he passed away.
I passed quickly, but Casa Vicens (1883-1888) is a summer house designed by Gaudi, commissioned by the owner of a brick and tile factory, Manuel Vicens, who from this 2016 became a museum open to the public, marks his style in transition.
The first works of his that I went to see the next day were the public lamp in the Plaza, a work of his youth, and then the Casa Batlló, made from 1904 to 1906, after the Casa Milà (foto) with the company of a friend Javier explained the futurism of work with space for lights and air inside the building, and the contours lowered at the tip, so as not to overshadow the architecture of the building next door.
After going through several other works we went to the Sagrada Familia, whose project is being finished by other architects respecting the ideas of Gaudi, began in 1883 and made until the day that was run over.
The images are all outside, it is a true Bible school (he said he would do a catechesis of stone and did it), and inside the lights and the sound of the tube organs (they seemed to me two, I did not confirm), they seem be a whole temple to pray, as it was defined "expiatory temple", but I prefer even the Cathedral of the Holy Family.
From 1984 to 2005, seven of his works were classified as World Heritage by UNESCO and his Catholic devotion that intensified during his life, street work rich in imaginary and even say in the in religious imaginary, now the catholic church thinks in his beatification.