Agnus dei´s Josefa, Óbidos, PT
This main work Josefa d'Ayala and Cabrera, or Josefa d´Óbidos (1630-1684), was a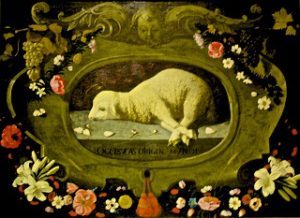 baroque painter in the city of Óbidos, her main work was Agnus Dei, whose painting is in the Évora museum.
The painting "Cordeiro Pascal Agnus Dei" was painted between 1660 and 1670 and is in the Museum of Évora, being one of his main works, but it is for the next post.
Its baroque style of still life is characteristic of the period called "Siglo d'Oro" of the arts. There was a new glimpse of nature by integrating floreros, scenes of hunting and representation of animals and still life in the painting.
Strong Iberian influence, among them of Francisco de Zurbarán, see Still Life with Lemons, Oranges and a Rose of the Iberian style of the "bodegóns" and "vases", of the time.
The Christian influence is also in the work, which can be observed by the grapes, two branches of wheat below and details of the leaves of the vines, besides the Lamb himself.