Óbidos, the Portuguese medieval city
The city of Óbidos, considered one of the 7 wonders of Portugal, the little towns are villages,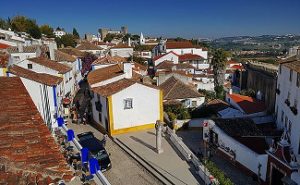 although they have municipal council, are linked to a district and this city is linked to the district of Leiria, in the province of Extremadura, the center has 2200 inhabitants , but the whole region has almost 12 thousand.
The city has a castle with walls, considered one of the 7 wonders of Portugal, where you can live with medieval aspects, this week for example, there is the medieval festival, but the project "Literary Village" turned Óbidos into Literary City by UNESCO.
It is 80 kilometers from Lisbon, has three cross streets, Rua Direita, Rua do Facho and Josefa d'Óbidos, a tribute to the main baroque artist of the city, post tomorrow. There are vestiges that Óbidos is inhabited from primitive peoples, its logistics near the sea, the climate and the fortification of defenses were in this region also the Romans, the Muslims and in the year 1148, after the conquest of Santarém and Lisbon by D. Afonso Henriques, was also taken from the Arabs.
There is near the Lagoa (lagoon) d'Óbidos, it is possible for the real road, being like lagoon easier of defense and also with exits to the sea in several points, going from the Beach of Bom Sucesso to the Praia da Foz do Arelho (Beach of the Foothills of the Sea Arelho), bypassing the Lagoon.
As for the name, the word comes from the Latin Oppidus, which means "fortified city", there are signs that the emperor Cesar Augustus erected the city in the late 1st century BC. This week Óbidos holds the Medieval Festival, and there will be a doctoral meeting of Digital Art from the Open University.
The video below shows the Medieval Festival of last year:
https://www.youtube.com/watch?v=QeVOXpiKBC4