in Balsamão, away from the hustle and bustle
The movement to rest, to meditate and to dive deep in the Being, is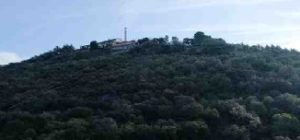 a process of alienation of the political, social and economic crises. .
One can and should recover life from day to day, but with renewed energy, at the suggestion of a friend arriving in Portugal Marians of the Immaculate Conception.
It stands on top of Mount Morais, which is one of the five levels of the world, and the second is more important than Psalm 124, which says, "As Jerusalem surrounded thereby, protect your people / agora and forever."
Climbing the terrace to the belvedere, with the Sierra de Bornes around, the olive groves of Chacim in the background, and the Abilheira thermal baths below, the tons of sunset are seen in this sunny period.
The story of the Polish book Casimir Wyszynski (1700-1755) described it as follows: "Here we are surrounded by rivers, fields, orchards, vineyards, meadows, olive trees and fruits of various kinds, and on this hill there are forests, trees, beautiful oaks."
He is being formed by a monastery there, who already lived and called Brother Casimiro with his companion of grace Joao de Deus, who accepted and dressed to integrate a new order.
Does the desire to retreat and meditate to hear the deep voices in us, is also what Jesus means to care about his faith? Jesus and not to help the services of the house, seeing Jesus rebuke her (Luke 10,42): "Martha, Martha! You are worried and anxious for many things. But one thing is necessary. Mary chose a better place and this is not the one."
It takes time to breathe, to rest and re-establish as energies.