Divide the goods and the eternal treasure
A greater distribution of wealth is needed, but happiness and well-being do not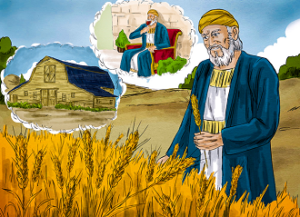 depend only on monetary values, but ultimately on what treasure we put our hearts and expectations on, of course the problem of poverty exists and overcoming it is good. But those who spend their lives depositing the bliss of efforts to acquire material possessions, in many cases, eventually let the tastes and bliss of life pass.
A biblical story with its own hermeneutics is one in which one seeks Jesus to share the inheritance with the brother, when asked Jesus (Luke 12: 13) asks who charged him with that division, curious the parable that Jesus tells next.
One person was preoccupied with making sure to accumulate his wealth from the immense land he owned and decided to build more barns so that he could drink, eat and enjoy life.
But the master will scold him and say that even that night he would lose his own life, thus creating an economy at least curious, accumulating goods can make someone lose their lives, while those who donate and distribute goods may be enjoying more happiness.
It is the perverse logic of capital or accumulated goods, not only can life be lost, of course it can increase the value of goods by creating an inflationary current of product demand, but even financially, accumulating goods results in less development of wealth, even if it personally means a greater accumulation of wealth.
What history shows, Balzac's novels are a good indication of this, is that the accumulation of goods only gives rise to greater concern for those who do while it will be the relatives, friends, and heirs who will enjoy the accumulated goods.
But what Balzac's and King Lear's of Shakespeare's novels demonstrate is that true feelings are far from possession of goods, what socially is called selfish feelings, that means that the heart is directed toward goods and not people. who own them.
It also means that the person who has these feelings is bound by unhuman values and beyond the possibility of taking the goods of those who accumulated them, little or nothing will result in his own happiness, for the heart is not directed to true human feelings, only to Passenger goods.
This is not to say that we should not organize our lives financially.