Golden Globe Winners
The highlight is the winner of best actor Brad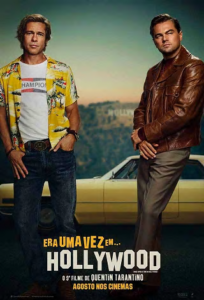 Pitt in Era once in Hllywood, who had two fair Anthony Hopkins nominations in Two Popes and Al Pacino in The Irishman, best actress went to Awkwafina (The Farewell) who had the nomination of Emma Thompson (Late Night) , the awards can reverse at the Oscars, although the Golden Globe is always considered a preview.
Best dramatic film was for 1917, which won best director also Sam Mendes,
where the Irishman, Joker and Two Popes competed, I didn't watch the winner, but i had posted that I expected a surprise, which happened, best comic or musical film went to Once time in Hollywood, which deserves to be seen because it also won best screenplay.
Joker won a consolation award with the best soundtrack, i didn't see the film protesting the praise of violence and an attempt to justify human wickedness in times of autocrats and dangers of war I consider inappropriate for all ages.
The Golden Globe sits an numerous list of award-winning, best actress in series went to Phoebe Waller-Bridge, best actress in miniseries Michelle Willaims, Best actor in a miniseries for Russell Crowe, etc. appear those competitions between children who give medals to All.
One last highlight is the best foreign film for Parasite, those who watched really are impressed with the film.