Mystery is not ignorance
Stories of cultures, of cultural traditions that involve the imaginary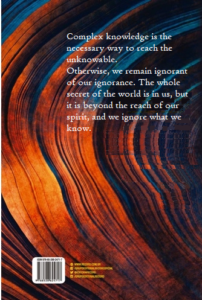 , and the imaginary itself are shrouded in mysteries, but they should not be confused with ignorance or superstitions, this is what can be read in the book of the almost centenary Edgar Morin "Knowledge, Ignorance and Mystery ". there is a lot about knowledge, something about ignorance and the essentials about mystery, Morin's dosage is perfect and a good remedy for the pandemic.
He is preparing a book for the pandemic, but as he always anticipates the story I hope to read and I believe he is one of the few who can talk about the new name or the post-pandemic precisely because he emphasized in one of his conferences that the health crisis caught us by surprise and put us on our knees.
In addition to planetary books like "Terra Pátria", about epistemology "The Method" in six volumes, it is one of the rare ones that ventured to tread new paths in our global dilemmas through "To Exit the 20th century" and "Before the Abyss" However, in this 2018 book, your leap is over the mystery without slipping through the easy paths of belief and ignorance, questions both the fetish of reason and materialistic determinism, among its various works are the Transdisciplinary Studies done in a Center of these studies in Paris with the philosopher, important for the digital world Michel Serres, recently deceased, and proclaims that with discipline and excessive specialization we can move towards a new "obscurantism".
He clearly separates ignorance from mystery, for him " We can only apprehend the real through representations and interpretations. The reality of the outside world is a humanized reality: we do not know it directly, but through our human spirit, translated / reconstructed not only by our perceptions, but also by our language, our theories or philosophies, our cultures and societies ", and for him, the mystery is equated by transdisciplinarity as "the contradiction to which all in-depth knowledge arrives is not an error, but the last conceivable truth".
He values ​​mystery as a path of discovery and knowledge: "Complex knowledge is the necessary path to reach the unknowable. Otherwise, we remain ignorant of our ignorance. The mystery in no way detracts from the knowledge that leads to it. "
He calls our current environment as having a "culture of cancellation", a more resentful half-sole in the old ideological patrols, and they now seem to intensify with the return of ideological polarization, which in the post-war created a constant tension in all of humanity. Which reminds you when children cover their ears and emit mimetic chants (he calls gutturals) so as not to hear interlocutors who contradict them (if you never know that you may be wrong, you will be right forever), so the polarization and radicalization seems to come from nursery education. It is not only the natural environment that needs biodiversity, the cultural environment and democracy also needs it, as Morin says, in fact "they depend on biodiversity", we are willing to live with what is different or we want to eliminate it, the answer given in global scale is frightening, it is no mystery to ignorance and contempt for the Other.
Morin, Edgar (2020). Conhecimento, Ignorância, Mistério (Knowledge, Ignorance, Mystery). 1st. edition. BR: Bertrand do Brasil.