Civilization crisis and death
Returning to Pablo Picasso's thought that the worst loss of life is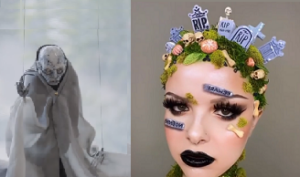 not dying, but dying while we live is the one that best explains the civilizing state, even those who owe fraternity, dialogue, the planet as a common home seems hopeless and therefore tired , not that tiredness of the Society of Tiredness that is also a crisis, but that of those who have failed to find what unites, the positive and the true.
To speak of the post-truth, the sophistry is pre-Socratic, and the public lie has also been conveyed by newspapers and television channels, according to the political side they take, in the end everyone agrees that if you are not on the politically correct side, it is not true, so we remain in relativism and dualism, even those who preach against it, Edgar Morin is right is a crisis of thought, and Peter Sloterdijk is also "not a favorable time for thinking", it is easier to take a side, although there are mistakes and successes on several sides, because there are only two.
I saw on Instagram that two very popular videos are of a young artist who makes puppets with skeletons, birds and funeral figures and another of a girl whose hair was decorated like a cemetery (figure above), it is a sad reality the post-Goths seem to dominate youthful fantasy.
In a BBC report on October 31, poor banker Muhammad Yunus stated: "We need to redesign the system by guaranteeing a new economy of three zeros: zero poverty, zero unemployment and zero net carbon emissions. And we know how to do it. The problem is that we are very lazy and we are very comfortable in the system we have, we don't want to leave our comfort zone ", is a new thinking may not work, but without a doubt people, the poor and the planet need answers, the old ones create more polarization and misunderstandings, in addition to post-truths, in this case with a new meaning, from an ideological point of view they were once true, today they are post-true.
There are situations and I think that the planet itself can react, an aortic reaction, the inorganic one over the organic one, after all we came from the dust, from some chemical reaction and certainly if we don't change the route we will go back to the dust, not that life's fatality physical personal death, but dying in life.
The question that remains is whether this reaction from the inorganic planet could change something in the human organic, your mind, your being, for something better.