The civilization crisis and the third excluded
The fact that we are stuck with dualism, now transformed into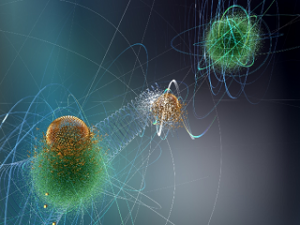 political polarization as if in nature and in society there were always only two poles in conflict without a third (or even fourth and fifth options) seems to make no sense with the logical paradox developed by Barsarab Nicolescu and find a parallel only in quantum physics (picture inside).
It is not true, Barsarab's own text that calls for a Reform of Education and Thought (Barsarab, 1999) indicates that one can see in this change the center of a crisis greater than physical or logical issues, says Barsarab: "One thing it is certain: a great gap between the mentality of the actors and the internal development needs of a type of society invariably accompanies the fall of a civilization ", or to put it another way, more ontological, between Being and Non-Being there is a Non-Being-being state that penetrates into dualisms and paradoxes.
Barsarab's letter calling for an education reform, Edgar Morin also asks and others perceived a crisis in modernity as thought and education, the Third Included theorist T, gives a worrying sentence: "The risk is enormous, because the continuous expansion of Western civilization, on a world scale, would make the fall of that civilization equivalent to the fire of the entire planet, in no way comparable to the first two world wars ".
There is also a linear and monodirectional thinking where the intention is always to polarize and create a "single" and monochromatic path, with the eternal danger of authoritarianism and deviations of power, in order to distend it would be necessary a more open world and where everyone is included. Education must walk and help this context, Barsarab says in his letter: "The harmony between mentalities and knowledge presupposes that such knowledge is intelligible, understandable. But can that understanding still exist, in the era of disciplinary big bang and extreme specialization? "
The harsh reality of the pandemic shows that we oscillate between true solidarity and a relaxation to face the crisis, and the opportunistic polarization that wants to take advantage of the deaths and deviations from a poorly managed health crisis, in some more countries, but in almost all.
Barsarab's sentence that seems harsh is not: "Is there anything between and across disciplines and beyond any and all disciplines? From the point of view of classical thought there is nothing, absolutely nothing.
The space in question is empty, completely empty, like the vacuum of "classical physics", because it is in the void, in the epoché where a true philosophy can flourish, even when it is not (the suspension of judgment, the new horizons beyond the pre- concepts, etc.) is that it is .