The orgic birth
How modern knowledge can give birth to a new world, overcome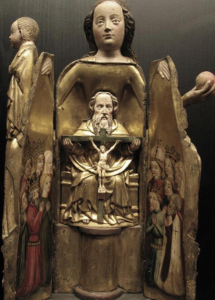 the humanitarian crisis (which is beyond the pandemic), overcome the crisis of thought warned by so many thinkers Bachelard and the new science, Husserl and the crisis of scientific thought, Morin and the crisis of humanitarian thought, which Sloterdijk also criticized by revising Heidegger's "Letter on Humanism".
Reviewing the three changes, in antiquity Socrates through Plato gave birth to the episteme that surpassed the sophist model and Plato organized the model of the city-state, with the limitations that did not entitle women and slaves, a model that collapses along with the Roman empire, we inherited the law from them, but in what was translated the natural law: in the social contract.
The modern republic comes precisely from a discussion of what human nature is, the anthropocentrist model ignored the Being and its relationship with the Being, it is not just about the relationship with Nature, but with human nature itself, which is also a phenomenon.
We have already posted here about the orgic change, the relationship with nature itself and with ours, which Sloterdijk calls "matrix in grêmio" (picture), an appropriate name for Christian eschatology, where there is the female figure as the promoter of this orgic change, the relationship tense with nature that will bring profound changes in the planet and in the human relationship.
What we developed in our previous post about aorgic mutation was the necessary overcoming of anthropocentrism, the nature of nature (developed in Edgar Morin's Method I), the place of man in nature (the title of one of Teilhard Chardin's books) and many others point out that anthropocentrism is a paradox, we are co-dependent and co-participants of Nature.
But nature shows signs of agony, climate change is just a symptom, the very structure of the planet (volcanoes, earthquakes, etc.) can profoundly and dangerously alter the planet, remember the Fukushima and Chernobyl disasters, and polarization behind the danger of war.
In Christian eschatology, the book of the Apocalypse of St. John reads (Rev. 12-19a-12): "The Temple of God in heaven was opened and the Ark of the Covenant appeared in the Temple. Then a great sign appeared in heaven: a Woman clothed with the sun, with the moon under her feet and on her head a crown of twelve stars".
Theologians and exegetes shuffle over this passage, of course the figure of Mary comes to the fore, but the temple of God is nothing more than the universe and nature, including human nature, and the crown of twelve stars, the doses tribes of Israel, but curiously the European flag has two stars too, and metaphorically I would say that it represents a more united world, in the initial European model because it also suffered cracks like the English Brexit.
The orgic change is a possibility not a fatality, and everything depends on human action, as the centenary philosopher Morin says, one can hope and believe in change.